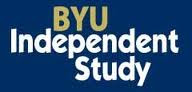 With low-cost tuition and more than 500 classes available, Brigham Young University (BYU) offers students the chance to earn their diploma completely online. BYU is accredited by the Northwest Accreditation Commission (NWAC), a division of AdvancED, and offers free tutoring to its enrolled students.
For every five courses completed with a B or higher grade, students will be eligible to receive one free scholarship course. A list of these courses can be found on the website.
Students may start classes at any time and have a full year to complete each course.
Program Type: Online, High School Diploma
Cost: $40 registration fee, each course is approximately $132
Ages: 14 and older for Standard and Advanced programs, 19 and older for Adult program
Program Contacts: