Our district has taken a big step in helping staff, students and families learn technology. Atomic Learning is a key partner in our dedication to providing the highest quality technology training resources available.
Our subscription to Atomic Learning includes: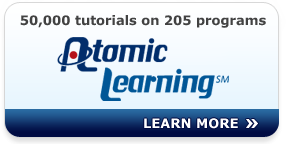 The Microsoft® Office Suite
Adobe Suite
Google Drive/apps/doc/form
Internet Safety
Career Skills training for personal career advancement
Completing a FAFSA training for college planning
Access for staff, students and their families 24 hours a day, 7 days a week.

More than 50,000 step-by-step technology tutorials.
We encourage you to use it as a resource.

Log in with your district username and password. Need a login and password? Contact LMS@everettsd.org