This month we celebrate a holiday that honors our nation's veterans. For many families it is a solemn occasion during which they remember loved ones lost in service to our freedom. For many it is a celebration of the service our loved ones gave and survived to describe for families and friends. As the son and student of living and deceased veterans who served at Pearl Harbor, I have experienced these emotions on this day, many times over.
Our schools' Veterans Day assemblies call attention to the service and sacrifices made by those who have served, and are today serving in defense of our country. These gatherings are invaluable history and current events experiences for students – and they give us adults pause to reflect and remember and be grateful.
Thanks to Tracy Dickinson in our maintenance department, I learned more about the history and symbolism of the district's Memorial Stadium. Tracy and local historian (and former school administrator) Larry O'Donnell explain the "Memorial" part of the stadium's name.
The Stadium was originally built in 1947 on land the Everett Elks donated "to all the Everett boys who gave their lives during World War II."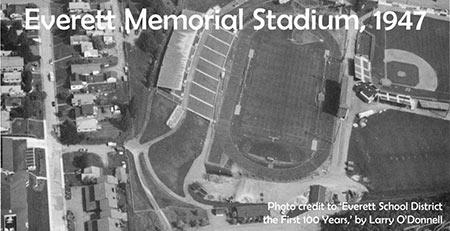 As you might imagine, Everett Memorial Stadium's history is punctuated with names many will recognize – or see today as place names and street names in our communities. Howard Sievers and George Duecy are Everett High School graduates; they also owned Associated Sand and Gravel and built the Stadium grandstand.
The Newland Builders, owned by the Newland family, all EHS graduates, built the stadium roof. Ben Newland is remembered as one of the finest athletes ever to wear the blue and gold.
The stadium scoreboard was one of the first electric scoreboards ever in a high school stadium. It was a gift of Associated Sand and Gravel and the Everett chapter of the Veterans of Foreign Wars (VFW).
First game was Everett vs. Bellingham, November '47, and the first touchdown was scored by Bert Slater, a longtime teacher and coach at Everett High School.
The stadium was long considered to be the best kept stadium in the state of Washington. The grass and facilities were always immaculate thanks to longtime caretaker Mel Olsen and assistant Dave Wiggens who both took great pride in the place. Mel was remembered by local football fans as the great 'Everett High Halfback' who played on three EHS championship teams.
Much has changed in our district since 1947 – the enrollment, for example, which had "skyrocketed" to 7,700 after the war by 1950. However, much is also the same. The Stadium is a field of pride for three high schools now – not just one. It is recognized as a premier facility throughout our region and a favorite place for home teams and visitors to compete.
I think those who dedicated the Stadium in memory of World War II veterans would be pleased and proud of the way our schools have continued honoring our veterans.
Gary Cohn
,