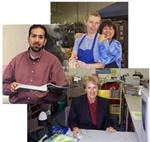 Everett Public Schools is a diverse progressive district with modern, up-to-date facilities and outstanding benefits.
More than 78% of the Everett Public Schools budget goes to employee salaries and benefits. Join our team in Everett where you can work well and live well.
Everett Public Schools is accepting applications for substitutes for the 2016-17 school year. Please visit our employment website for more information.
---
Everett Public Schools does not discriminate on the basis of sex, race, creed, religion, color, national origin, age, honorably discharged veteran or military status, sexual orientation including gender expression or identity, the presence of any sensory, mental, or physical disability, or the use of a trained dog guide or service animal by a person with a disability in its programs and activities and provides equal access to the Boy Scouts and other designated youth groups.
Designated to handle inquiries about nondiscrimination policies are:
Address: 3900 Broadway, Everett, WA 98201