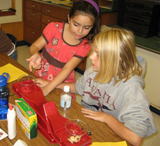 Challenging Options classes provide extra academic challenges for students in grades 2-12.
Elementary classrooms are self-contained for highly capable students who meet the state's criteria for giftedness. Teacher nomination/inventory form, parent nomination packets are used to nominate students to be considered for placement into the Highly Capable classes.
Middle School Challenging Options are called Challenge classes and include Reading, Language Arts, Social Studies and Mathematics (at Evergreen, Science is also available). These classes are for students who are achieving at high academic levels and are motivated learners. Teachers, parents and students may refer students for the program. Selection for these courses is based on assessment scores and teacher recommendations.
High School Honors, Advanced Placement and College in High School courses are among the challenging options available. High school students self-select these classes based upon their interests, skills, and abilities and with the guidance of parents and school counselors.
Questions?
Becky Ballbach, Director, Student Support Services
425-385-4063
3900 Broadway
Everett, WA 98201