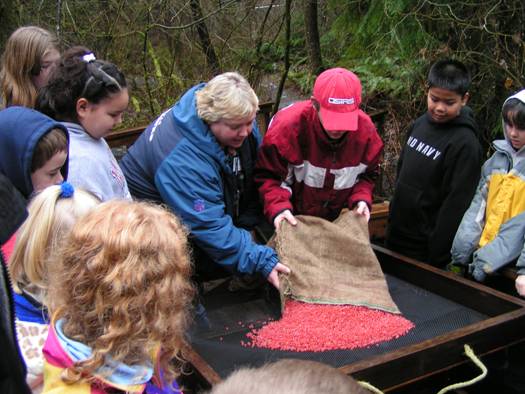 Homeschool families with at least a semester of experience are invited to participate in our parent partnership program. The exception being Kindergarten through First Grade families can have no previous homeschool experience, and Second Grade families through the first semester also qualify without previous homeschool experience. Here are some more things you might want to know...
Facilities
Port Gardner is located at 3516 Rucker AV in the long white building west of Sequoia High School.
We have several large classrooms along with all of the supplies and equipment needed for instruction.
A full-sized gymnasium is available for use with parent-supervision.
We are excited to offer science classes at the Lively Environmental Center, drama productions in partnership with Evergreen Middle School, and many other engaging course offerings.
Support
A vast library of curriculum materials including textbooks, science kits, workbooks, and teacher's manuals is available for checkout.
Workspace is available for parents and students, a toddler room for young children, and a fully functioning kitchen for lunch preparation.
Learning allocation for the purchase of curriculum materials is available each semester for full-time students.
Technology
Over forty computers and Chromebooks with internet access are available for instruction, integrating technology and accessing learning-based websites.
Onsite and home-based access to Online Learning curriculum and Online High School are available for enrolled students.
State of the art technology is used as part of class instruction, including presentation systems, computer labs, and digital equipment.
Services
We are a designated location for registering the Declaration of Intent to Provide Home-based Instruction.
Professional academic guidance is available to help with achieving and coordinating high school credits and graduation requirements.
Standardized testing is provided in the spring for annual assessment of students receiving home-based instruction.
Access is provided to Everett Public Schools workshops and training activities for students and parents including math, reading, writing, science, technology, test preparedness, and more.
We provide guidance and support towards Everett Public Schools diploma and graduation, including graduation ceremonies.
Weekly contact with a certificated teacher is required.
Monthly progress submitted to student learning plan advisor.
2 hours of volunteering per month - onsite and offsite opportunities available.