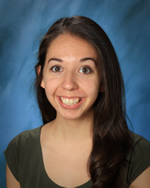 Welcome to the Family Support Specialist website for Hawthorne Elementary School!

My name is Corinna Donnerberg and I am here to support you and your family. My goal is help all students to be successful at school and to help all families access the resources and support they need to be safe and healthy. I work closely with the rest of the Hawthorne team to help each and every Hawthorne Hawk soar to success.
Some of the things I often help families with include:
- Filling out paperwork to enroll their child in school
- Explaining handouts and materials that get sent home
- Signing students up for Operation School Bell (free program that provides one bag of clothing per year to students who qualify for Free/Reduced Lunch)
- Providing students with shoes and coats (when they are available)
- Helping families who need food through the Food Backpack Program or the holiday assistance program
- Communicating with their child's teacher, the office staff, the nurse, or the principal
- Accessing community resources to get help with medical care, health insurance, housing, food, clothing, employment, childcare, education, and more
- Signing up to become a volunteer at school
- Arranging for interpretation/translation services
I also work with other school staff and community organizations to provide information presentations for parents about topics such as:
- First Aid/Health
- Technology
- State testing/school curriculum
- Parenting
Please feel to get in touch with me if you have any questions or concerns or would like to get more involved at Hawthorne. You can find me in Room A147 on any school day, and I am also available by phone or email.
And while you're here, take a look around the website! There are lots of tools and resources available.
Corinna Donnerberg
B.A., Westmont College, Santa Barbara
MSW, UC Berkeley School of Social Welfare
(425) 385-4610