Test to Stay Program

Everett Public Schools, the Snohomish Health District and the Washington State Department of Health (DOH) recognize the importance of students and staff remaining in school after being named a close contact of someone who tested positive for COVID but are not showing any signs or symptoms of the virus.
Our school district has been approved to participate in the Test to Stay Program through the Washington Department of Health (DOH) to help reduce the number of days students who are identified as COVID close contacts at school must quarantine.

The Test to Stay program is a voluntary, parent consent COVID testing program. It is designed for students who are unvaccinated and identified as a close contact of an individual at a school or school-related event who tests positive for COVID. The goal of the program is to allow these students to remain in school as long as they are symptom-free and test negative for COVID. This program is not available to students who are exposed at home or during non-school events or gatherings.

A close contact is defined by the DOH as an individual who has spent 15 or more minutes over a 24-hour period within 6 feet of the confirmed case, or within 3 feet in a K-12 classroom setting. Each confirmed case in Everett Public Schools is contact traced and families are notified if their student is determined to be a close contact.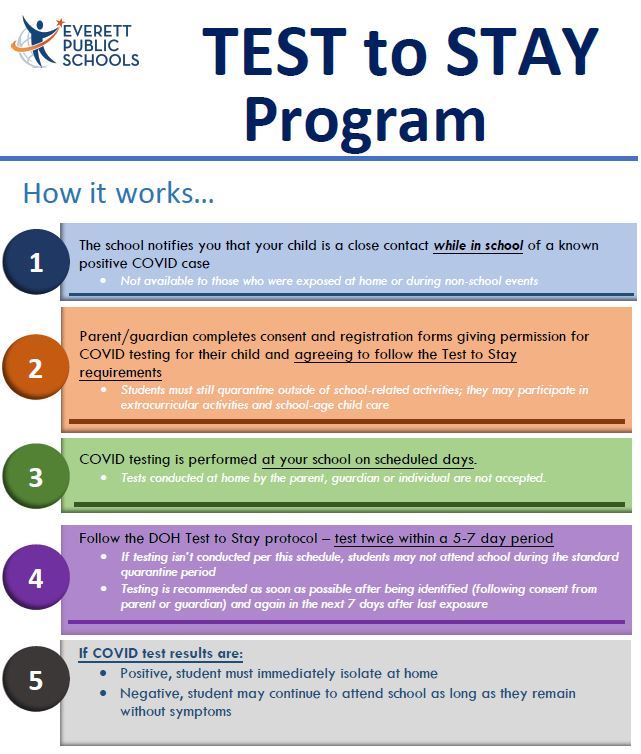 Close contacts who choose not to participate in Test to Stay must remain click here to view larger

in quarantine following the DOH guidelines:

NO TEST = Quarantine for entire 10 days.
NEGATIVE TEST on day 5 or after = return the following day

However, if any COVID symptoms develop during the 10 days, the individual should isolate and get tested.

How it Works -

1. The school or contact tracing team notifies you that your child is a close contact of a known positive COVID case while in school.

Not available to those who were exposed at home or during non-school events

2. Parent/guardian completes consent (student consent or staff consent) and registration forms giving permission for COVID testing for their child and agreeing to follow the Test to Stay requirements.

Students must still quarantine from all social gatherings and community activities. They may participate in extracurricular activities at school, including sports, and can attend childcare or youth development programs provided before and after school.

3. COVID testing is performed at your child's school on a rotational basis by trained staff.

4. Follow the DOH Test to Stay protocol – test twice within a 7-day period.

If testing isn't conducted per this schedule, students must follow standard quarantine guidance.
Testing is recommended as soon as possible following recognition of the exposure (following consent from parent or guardian) and again 5-7 days after last exposure.

5. If COVID test results are:

Positive, student must immediately isolate at home
Negative, student may continue to attend school as long as they do not develop symptoms.

This testing program, combined with disease prevention strategies, can help our schools detect new cases to prevent outbreaks, reduce the risk of further transmission, and protect students, teachers, and other staff from COVID.

Frequently Asked Questions
Who is eligible to participate?

What if my child is vaccinated?

Where do I find the consent form?

When does a signed consent form need to be submitted by the parent/guardian in order for the student to remain at school rather than quarantining at home?

Will the signed consent form be valid for a school year, or will it need to be signed for each test?

Will there be an option for electronic consent forms to be submitted?

When will I receive the test results?

How will families know the results of the tests for their student?

What are the testing procedures?

Can my child participate in non-classroom school activities and extracurricular activities while participating in Test to Stay?

What if my student tests positive for COVID during the Test to Stay program?

What if my student is identified as a close contact of someone with COVID at school and chooses not to participate in Test to Stay?

Who is determining the requirements of the Test to Stay program?