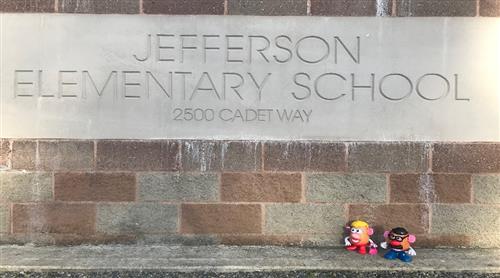 Dear Jefferson Families-
Check out this data…our student tardies have improved immensely. Thank you for your help in getting your child to school on-time, every day.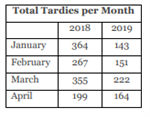 Next month, the class with the highest number of students on-time to school will earn lunch with Everett's own Mayor, Cassie Franklin. Students are so excited to add that potato piece, hear the afternoon announcements of the number of tardies for the day, and listen to the continual improvements. I'm already thinking about next years' incentives. If you have any ideas, please share with me.
Thank you for your support,
Annette Sternberg
Assistant Principal
Jefferson Elementary
asternberg@everettsd.org
*No Tardy Taters" was created by the teachers at McLean Science and Technology Magnet Elementary School in Wichita, Kansas, in 2012.
Planning to volunteer this year?
ALL volunteers must fill out a new application this year
Parking Lot Reminders
The Jefferson parking lot is a very busy place! Please consider parking at Eastmont Park & Ride (0.2 of a mile away) and walking up. Whenever you are in the parking lot, please follow these guidelines in order to keep everyone safe.
Park only in marked spaces. Do not park in a handicapped space unless you have a placard.
If picking up a student, stay in your vehicle in the "kiss and go" lane. We will have visor nametags and directions for use printed and distributed as soon as possible to speed this process as much as we can.
If you are walking, always use a crosswalk and follow Safety Patrol students' directions.
Never pick up, drop off, wait, or park in the back parking lot. It is for staff, deliveries, and buses only.