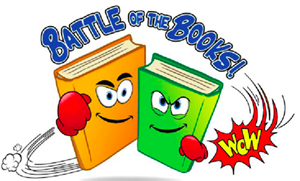 Sixth graders have an opportunity to participate in a Battle of the Books. Battle of the Books is a trivia contest based on common books.
Books that are in the battle this year are:
The Cay by Theodore Taylor
The Clay Marble by Minfong Ho
Sounder by William Armstrong
The True Confessions of Charlotte Doyle by Avi
These books may be checked out through the Eisenhower Library. They will be checked out on the textbook side of the student's account with a due date of June 6. For more detailed information, see Ms. Mercker's website. Link
here
.
The final battle for the 6th grade title of Champion will be held in the library after school on June 6th. We'd love to have parents/guardians/staff attend.