All in for Kids! CLICKathon starts October 15th through October 31st! All funds raised during this fall annual campaign will fund programs to help students in every school - every classroom - every day. With your donation,
clicking the above button
, resources will be raised to help all students reach the promise of their academic potential. Check out all that we do!
It is also United Way campaign time! We encourage our community to engage in the United Way of Snohomish County workplace campaign each year. Also, we are honored to conduct the United Way campaign for the Everett School District. Meetings are under way and will conclude on November 20th for ESD staff members. Please return all staff forms to the EPS Foundation by December 11th for processing.
Here is what's new...........................
It's Classroom Grant time!! Certificated educators are welcome to apply for Classroom Grants to offer extra innovative and targeted programs and materials to bolster their classroom experience. Applications are due to the EPS Foundation office (located in the district CRC) on Thursday, October 22nd by 4:30pm. Electronic copy found here, printable hardcopy here. Please remember to have your principal review and sign!!!

Amplify your gift by participating in your company match program. Visit our page at
Double the Donation.com
to access form
s and information.
NEW! Click on
AMAZON SMILE
when you shop and the EPS Foundation will earn .5% of your purchase!
NEW! Register your Fred Meyer card and support the Everett Public Schools Foundation every time you shop.
Foundation News: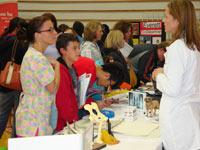 For the fifth year the Everett Public Schools Foundation will be the signature sponsor to help put on three nights of college and career exploration for all of our students and their families this October 20th at EHS, October 21st at HMJHS and October 22nd at CHS. It is estimated that more than 4,000 parents and students will participated in these evening events with more than 40 colleges and post-high school institutions represented each night.