OnlineHS Student of the Month:
Ndayiragije Shukurani
October 2023

Online High School is proud to introduce our October Student of the Month, Ndayiragije
Shukurani!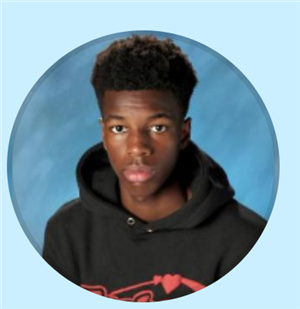 Everett High School senior Ndayiragije Shukurani has been selected as the October 2023 Online Student of the Month. Ndayiragije took two online classes this semester, Civics and Walking, and has done an outstanding job in both courses. He has done high-quality work in Civics, has submitted everything on time, and has even worked well ahead of the posted due dates in the class. Ndayiragije leads by example and has one of the highest overall grades in Civics class. In his other online class, Walk FITT 1, Ms. Hodgins, his Walk FITT instructor, says he exemplifies the goal-setting process and is communicative and ambitious.
Ndayiragije says, "I chose to take online classes because they offer great flexibility, allowing me to learn at my own pace and save time." He says he likes taking online classes because he is able to learn from anywhere and online classes offer him more freedom.
He is involved in the Everett High School Student Store, along with BSU, Basketball, and Track & Field and his goal is to pursue Track & Field in college. Congratulations Ndayiragije!
Archive 2023-24 School Year:
September 2023:
Congrats to Ivy Leigh!
Ivy Leigh is an ambitious and successful Cascade High Freshman

who is currently taking English 2, Health, and Algebra 2 online.
She rises above her peers with her time-management skills, balancing academics and gymnastics competitions. In addition, Ivy is a problem solver and strong communicator with all of her online teachers.
Ivy likes taking some classes online because she enjoys the flexibility this allows and is able to submit assignments ahead of time and not have to worry about being behind. Ivy says, " I am able to plan, prioritize, and organize tasks and assignments. I am able to set a schedule to meet deadlines."
Outside of school Ivy dedicates her time to gymnastics, taekwondo and family and still manages to dabble in art and enjoy reading.
Archive 2022-23 School Year:
May 2023: Congrats to Madilyne Robinson!
Madilyne is a junior at Everett High School currently enrolled in Online Family Health who has raised the bar early on for her peers by submitting ALL assignments, discussions, and quizzes in a timely manner complete with thorough and thoughtful responses. She has demonstrated that she is a goal-oriented self-starter by finishing her online course 3 weeks early and a problem-solver with strong communication skills to boot.
Madilyne says, "I am comfortable spending five plus hours each week on this course to learn material, read announcements, watch videos, participate in discussions, and complete course assignments. I am able to plan, prioritize, and organize tasks and assignments. I am able to set a schedule and meet deadlines. I am not a procrastinator. I like to get things done today and not tomorrow."
April 2023:
Congrats to Jasis Simons!
Jasis is a senior at Cascade High School. She is taking Online Myth & Legend as an English elective. She logs in consistently and paces herself well in the course. Her work is thoughtful and thorough and demonstrates a curiosity about the world.
Jasis says, "Taking an online course has been a great learning experience! For this particular course, I have learned about many different myths, and learned how to deeply analyze them to get a better understanding of their purpose in all sorts of different cultures."
In her spare time, Jasis enjoys reading, writing, art and dance. She finds that these activities allow her to express herself and relax. Here is an illustration she drew in response to our work on the Greek myth about Echo which was accompanied by a written explanation of the characterization and drama it illustrates:
After high school, Jasais plans to attend a 2-year college. After that, anything is possible!
March 2023:
Congratulations to Elle Caple, our March 2023 Online Student of the Month recipient.
Elle is currently taking Walk FITT 2 and Advanced Algebra 2 from OnlineHS and is doing great. She is always staying on track and works ahead in her classes. Elle is not afraid to ask questions and is a self-advocate.
After Elle graduates, her goal is to obtain a double major in Psychology and Criminal Justice which will help to reach her goal of working for the FBI in the Behavioral Analysis Unit. So far, she has taken 5 courses from Everett Community College along with earning College in the High School credits from the University of Washington for a Psychology course.
When Elle is not in school or studying, she enjoys baking and making videos of the baking process. Elle also enjoys journaling, reading and watching The Vampire Diaries or Criminal Minds.
Elle is focused on taking every opportunity to invest in her future. Her future looks very bright.
Congratulations Elle!
February 2023: Congratulations to Sekani Mallahan - our February Online Student of the Month!
Sekani made great strides this semester. Sekani said "I was able to look past mental health issues that held me back and go from failing all my classes to passing all of them." This semester he has learned how to 'push through' some of these obstacles and has succeeded. A big part of this process was Sekani learning how to be an advocate for himself. He noted, "I learned to communicate even though I wasn't able to do that very well before." Building relationships with his instructors and regular attendance were key components to his success along with his ability to analyze and articulate his strengths and weaknesses.
The online team is incredibly proud of Sekani. We are looking forward to seeing Sekani continuing to build upon his success.
January 2023: Congratulations to Everett High School senior Kellen Chambers, our January 2023 Online Student of the month recipient. Kellen did an outstanding job in online Civics, submitting all of his work on time and leading by example. In addition to Civics, Kellen has taken four other online classes with us. He feels he is more successful when he is able to work at his own pace. He said taking an online social studies class allowed him to free up his schedule. When asked what he liked about online classes.
Kellen said, "I like the flexibility of online classes. I can complete my work when I feel I am ready to complete it and can move ahead when I want. This allows me to do my work in chunks at a time and if I am overloaded with another course but am ahead in this one I can focus just on the other course." Kellen plans on finishing his coursework at EvCC to earn a nursing degree (RN) and then he will transfer to UW Bothell for their nursing program to earn a BSN (Bachelor of Science in Nursing). Congratulations Kell
December 2022: Congratulations to Jackson High School student, Emma Kim who is our December 2022 Online Student of the month recipient. Emma is a multi-faceted learner combining life-long aspirations of Archery with her pursuit of Optometry. Emma holds high standards for herself in the world of academia and physical fitness by maintaining a high G.P.A. and a rigorous training schedule. Emma is successful in both Online courses Psychology and Walk FITT and her classes at Jackson, and is competing on the worldwide stage in Archery boasting a first place finish in her last competition. Emma is a master time-manager in all of her endeavors and it has been a pleasure to have her in our program.
November 2022: Francis Ricafrente Is the OnlineHS Student of the Month for November 2022! Francis has done an outstanding job in Online Civics and has led by example, producing exemplary work and going above and beyond on all the class assignments and projects. Congratulations Francis!
October 2022: Reese Rozal - Reese is a Senior at Cascade High School and is excelling in her Online Myths & Legends class. She is a very observant student and especially stood out in her ability to analyze paintings based on well-known myths. This is her first online class and she chose to take it because she was interested in the subject matter. She plans to take Cinema Visions online second semester. Way to go Reese!