Which bus does my student ride?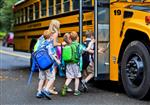 Your student's bus route information for the 2017-18 school year is now available in the Home Access Center.
If you have questions about your child's bus route, please call the transportation department at 425-385-4144.
Don't have a Home Access Center account yet? Click to learn how to sign up.