Development of the next fiscal year budget is a complicated process that spans the course of an entire year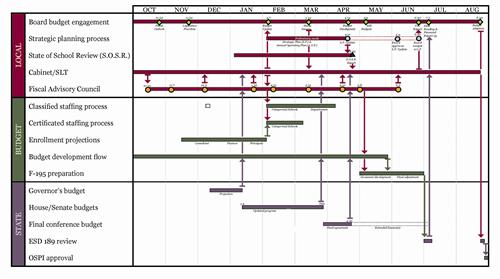 Click on chart to open PDF



October-December
State revenue forecast, issuance of governor's budget, and financial forecasting
On September 11, 2014, the Supreme Court held the Legislature in contempt for not fully funding education under the McCleary decision, but held off on imposing sanctions until at least the end of the 2015 legislative session. "Sanctions and other remedial measures are held in abeyance to allow the State the opportunity to comply with the court's order during the 2015 legislative session."
On December 15, 2014, Governor Inslee released his 2015–17 education funding package, consisting of a $2 billion, two-year investment in K–12 education, and concluded his week-long roll out of his budget proposal on December 18, 2014. His proposal responds to HB 2776 and the McCleary decision requiring full funding of an enhanced formula for Materials, Supplies, and Operating Costs (MSOC) by the 2015–16 school year, but held off on investing in full-day kindergarten and K-3 class size reduction until the second year of the biennium.
January-May
Continual assessment of district programs and further engagement of board in guiding strategic direction
On Monday, January 12, the 64th Washington State Legislature convened its 2015 legislative session. This first year of a two-year biennial session is known as the "long" session and is limited to 105 days. Already, the debate about K–12 education—how much to enhance basic education; how to find revenue to enhance K–12; and what the Supreme Court really requires under McCleary—has taken center stage this session. Most believe the challenges faced by legislators will result in extended sessions with a June or July completion date. Accordingly, the FAC and superintendent's cabinet will continue to process and prioritize needs for the 2015-16 school year, holding off on final decisions for the conclusion of the 2015 session.
Many in Olympia believe that, similar to the 2013 session, one or more 30-day extended sessions will be required to reach an agreement. While new state revenues are forecast, they are outpaced by rising operating and inflationary costs along with significant pressures resulting from the McCleary decision, as well as significant economic pressure to pass a transportation package. School districts receive more than two thirds of their funding from the state, who also can influence the amount of local funding provided through local levies.
June/July
Formal development of the operating budget, budget hearing, and adoption
Districts face a July deadline to develop an operating budget for the following year, requiring the budget development process to proceed while the legislature wrestles with significant funding and policy issues.
July/August
Making all operational adjustments to align with formal budget adoption
September
Complex, eight-day, school by school assessment of staffing based on student enrollment, making adjustments as necessary