Preliminary Release of Smarter Balanced Assessment Scores
Look for Grades 3-8 Scores in
(If you haven't signed up for HAC, click here)
What is the difference between preliminary scores and official scores?
Although it is very rare and highly unlikely, preliminary scores could change. This can happen if it is determined that a question is invalid or if it is discovered that a scorer made an error. Again, this is very rare and we do not expect any scores to change. Official scores are final and will not change. They also have more detailed data.

Why didn't we release preliminary scores last year? Last year we had a new test, a new online environment; and we have never had preliminary scores released so early. We needed to be sure that the scores were stable before releasing them.

Why not wait until they are official? Assessment scores should be used to guide the learning experiences of our students. These scores, along with classroom assessments, can be useful in identifying students who could benefit from summer school or guide course selection for the fall. We want parents, students and staff to have the preliminary scores before school is out for the summer. Schools will be open and teachers will still be at schools if you have questions. When you get your student's scores, he or she will be in class with a teacher who knows them well and can help you understand the scores. We are cautiously optimistic that high school results will be released before June 22.

When will I see my student's official scores?
When scores are finalized this summer, they will be available in Home Access Center and you will receive a hard copy in September.

What will I see and what will it mean?
For English Language Arts (ELA) and for math you will see a scale score, achievement level, met or not met SBA standard achievement level, and claims level. The scale scores are shown below by grade level. The scale score tells your student's current level of achievement. Smarter Balanced Assessments are vertically scaled so it is easy to see your child's growth over time. Unlike the MSP where a score of 400 met standard at each grade level, with the SBA you need to refer to the scale score ranges for your student's grade level to identify the scale score that meets standard. In addition, you would expect to see an increase in scale score over last year's results compared to this year to demonstrate that your student has shown growth from one grade level to the next.

Each score falls into an achievement level numbered 1-4. Students at levels 1 and 2 are below standard for their grade level and students at levels 3-4 are above standard for their grade level. Students at levels 3 and 4 are considered to have met standard at their grade level. Finally, you will see claim level data. A claim is a broad learning outcome within each test. In ELA the claims are Reading, Writing, Research and Inquiry, and Listening and Speaking. In math the claims are Concepts and Procedures, Problem Solving, Communicating Reasoning, Modeling and Data Analysis. Your student has a descriptor for each claim of Below, At or Near, or Above standard. It is very easy to understand being below standard or above standard, but At or Near standard can be confusing. Because each claim is comprised of many learning targets, it is not possible to delineate between students who are at standard or nearly at standard. The test would have to be much longer to test each learning target to that level.

High School College and Career Level versus graduation requirement.
Students in classes of 2016 through 2019 can meet their assessment graduation requirements by passing SBA at the graduation cut score level of 2548 in ELA and 2595 in math .
Smarter Balanced Assessment
Scale Score Ranges for Levels 1, 2, 3 and 4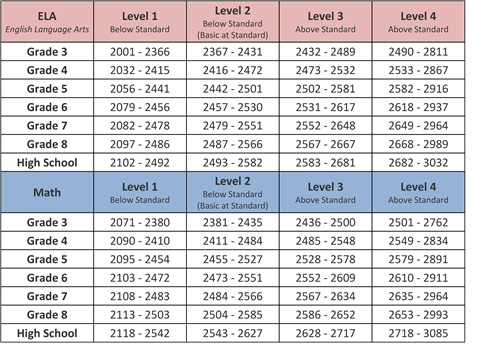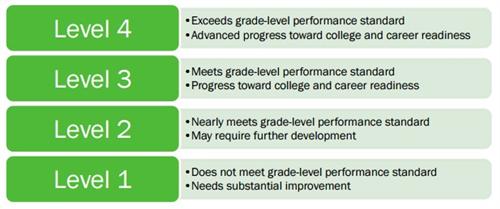 Understanding Your Student's Smarter Balanced Assessment Score
التقييمات المتوازنة الاذكى قادمـــــة
Smarter Balanced Assessment
As a result of shifting to Common Core State Standards (CCSS), Washington state mandated that all school districts implement Smarter Balanced Assessments (SBA) starting in 2014-15. The new assessments are aligned to the CCSS.
The SBA replaced the reading, writing and math Measurement of Student Progress (MSP) tests for students in grades three through eight and the reading and writing High School Proficiency Exam (HSPE) in grade 10. Students in the classes of 2017 and 2018 will fulfill their state assessment graduation requirements by passing the SBA in ELA or math at the graduation cut score level, or one math exit exam, and the Biology EOC. Students in the class of 2019 will no longer have access to math exit exams and will be required to pass the SBA in ELA and math at the graduation cut score level, as well as the Biology EOC, to fulfill their state assessment
graduation requirements
.
How are the Smarter Balanced Assessments different?

They are aligned to the English language arts and math CCSS.

The English language arts SBA includes both reading and writing assessments for every grade level tested.
They include two different types of tests: Computer Adaptive Test (CAT) and Performance Tasks (PT) with a classroom activity.
CAT is an online testing method. Questions appear based on whether or not a student answers the previous question correctly or incorrectly. This gives a more accurate measure of each student's performance level.
PT are extended activities that measure a student's ability to integrate knowledge and skills across multiple standards—a key component of college and career readiness. Performance tasks will be used to better measure capacities such as depth of understanding, research skills and complex analysis.
Classroom activities are 20 to 30 minutes. The activities involve research and structured classroom discussion to prepare for the PT. This ensures that students have background knowledge to successfully complete the PT.
How are SBA given?
Smarter Balanced Assessments are administered online. Students use a Chromebook computer to take the tests.
When will students be taking these exams?
The state of Washington establishes a testing window in the spring. Our district testing schedule will be designed to make the best use of student instructional time and use resources efficiently. The daily testing schedule will be posted on the assessment calendar.
How are we preparing students?
The district has been actively implementing the Common Core State Standards since 2012-13. Curriculum specialists and teachers have been developing and using lessons and assessments aligned to the state standards.

In addition, we are ensuring students will be ready for online testing by increasing technology use in classrooms.
Questions and suggestions: If you have any questions or suggestions for information you would like to see on this website, please email the
Assessment & Research Department.