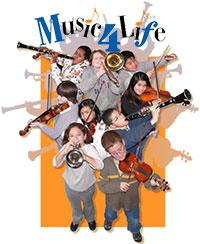 Music4Life
™
is a nonprofit that acquires "lovingly used" musical instruments from adults who no longer need them, repairs them and provides them to participating public school districts for use by students who need them.Everett Public Schools is now partnering with
Music4Life
in hopes with the goal of making our band, strings, and orchestra programs accessible to children whose families cannot afford instruments.
Research shows that students who participate in instrumental music activities tend to do better in math, science, history, literature, international languages, reading, writing, even in computer science, in addition to what it teaches about teamwork and self-discipline. These benefits should be available to all students.
Check your basement and attic to see if you have a buried musical treasure that can be re-purposed to enhance a student's experience in our school district. Learn more about Music4Life and how to donate. Be sure to let them know that you are supporting Everett Public Schools' music program. Thank you!
For questions related to the Music4Life program in Everett Public Schools, please contact:
Georgia Lindquist
, Humanities and Literacy Curriculum Specialist, Curriculum, Assessment & Special Programs
425-385-4064