Transportation Department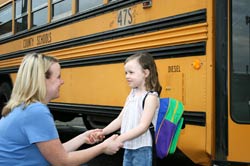 Who can ride a school bus? Kindergarten through 12th-grade students who live more than a one-mile radius from school.
We may make exceptions for students who live where conditions make walking to and from school hazardous. Everett Public Schools uses the Washington State Department of Transportation School Walk and Bike Routes: A Guide for Planning and Improving Walk and Bike to School Options for Students to help determine these conditions and make exceptions.
What does the transportation department do? The department schedules and routes school buses. The department also schedules buses for vocational education, athletic and extracurricular trips.
District transportation staff network with state and local officials about road construction, new housing developments and other conditions that might affect school bus routes or walking routes for students.
Who owns and operates the buses?
The district contracts with
Durham School Services
for school bus drivers and buses. Durham drivers are not district employees, and the buses (with the exception of some special education buses, cars and vans) are not district property. The Durham contract includes maintenance and repair of school buses, and careful driver safety and training
Who should I call with routine questions?
Main line for transportation dept.
425-385-4144
425-385-4141
Transportation Supervisor at 360-362-0069