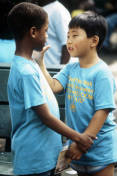 The English Learner (EL) program is funded by federal, state and local funds. The program provides structured language acquisition instruction to students whose native language is not English. Students are assessed on the English Language Proficiency Assessment for the 21st Century (ELPA21), which measures speaking, listening, reading and writing skills. Students whose scores indicate they are in need of assistance receive EL services.
EL services are available at all elementary schools, all middle schools, and all high schools except Sequoia High School.
For information about the specific support provided to students at different grade levels, and for information and resources for parents, please see the links at the left.
For further information about the state and federal requirements for EL programs, please see the Office of the Superintendent of Public Instruction website:
425-385-4030
425-385-4066
425-385-6089
425-385-4655
425-385-7821
425-385-4031
FAX: 425-385-4012
3900 Broadway.
Everett, WA 98201