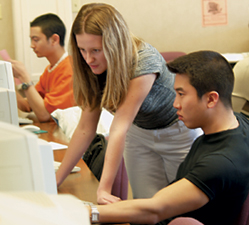 The Learning & Information Technology Services Department is committed to providing a wide-range of services:
In our classrooms: Collaboration, connections, and professional development to support the integration of technology in teaching and learning.
Across the district: Technical support services for all computer related hardware, software and network issues.
If you need technical support, HELP Desk is available 7:30 am to 4:00 pm each weekday.
Call 385-HELP (4357) or
Use Help Desk Web

Behind the scenes: Data systems, computer and network operations, and telecommunications that keep the district running!
Brian Beckley, Chief Information Officer
Jo Anne Buiteweg, Director, Learning Management Services
Scott Jenkins, Director, Customer & Technology Services
Ken Toyn, Director, Information Network Systems