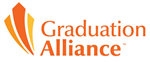 Graduation Alliance is designed to help students living within the Everett Public Schools' boundaries or service area, who are not attending an existing district school or program. The program provides a student support network that helps locate and enroll dropouts, as well as other at‐risk students, to provide a flexible and supportive online learning program through which they can reach their graduation goals.
Mentors and local advocates work with students to provide academic support using a combination of electronic communication and mandatory monthly attendance at local meet-ups where students can ask questions and get assistance. Those who need it will be provided a loaner laptop with built-in WiFi for use while enrolled in the program. Students who complete the program receive their diploma through Everett Public Schools.
To enroll, students must be referred and approved by the school district. If you are interested in learning more about
Graduation Alliance
or want to enroll, talk to your counselor or contact
Jaci Barbano
.
Click
here
for an informational flyer about the program.
Program Type: Online, Attend Meet Up
Cost: FREE
Ages: 16-21 (must be enrolled prior to 21st birthday)
Program Contacts: Student Enrollment: 1-888-615-6115
Wendy Alcala, Registrar: 425-385-4053