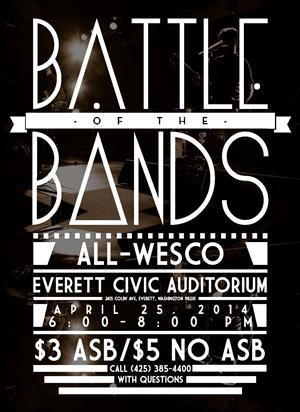 WESCO Battle of the Bands (BOTB) is a charitable event.
All proceeds from the evening's ticket/t-shirt sales will go to the winning
band's chosen charity.

April 25, 6 to 8 p.m.
Everett Civic Auditorium
Everett High hosted a district BOTB last Friday and raised
over $1,000 in donations for student Micaela Powell who recently received a
heart transplant.
Each participating school, Everett High, Henry M. Jackson
High and Shorecrest High, has selected their own charity to which to donate any
winnings.