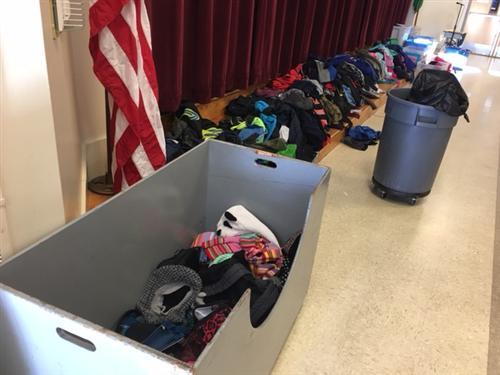 Operation School Bell is a program that assists Emerson students by providing one set of new school clothes per school year. Students go to Operation School Bell on a bus from school with a district volunteer, where they can pick out clothing items. This is a free program open to any Emerson student who needs clothing and who qualifies for Free/Reduced Lunch.

If you would like your child to go to Operation School Bell, you will need to fill out a service request form and a field trip permission slip. Your child can also talk to the office, his or her teacher, or Mrs. Kazen to request the forms.

Appointments are scheduled based on student need, the availability of volunteers, and Operation School Bell's schedule. Operation School Bell serves all of Everett, as well as some of the surrounding community, so it may take several weeks to get an appointment.

In some cases, Operation School Bell may not be available. When this happens, your family can use the Clothes for Kids resource. Clothes for Kids is a free program that provides gently used clothing for families. You can get the service form from the front office.

Students who qualify for free/reduced lunch are eligible and can use one of the above resources once per school year. If you have any questions, please contact Deanna Kazen at 425-385-6295.

Lost and Found- Our lost and found is always over flowing with jackets, scarfs, gloves, lunch boxes, and water bottles. Please make sure to periodically check for items your student has lost. The lost and found is emptied and donated 3 times per year. Christmas break, Spring break and at the end of the school year. So checking for your students clothes often is a good idea.