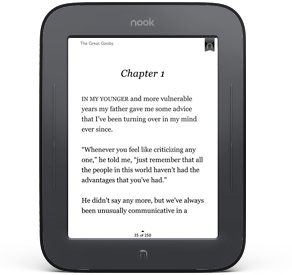 Nooks are at the Gateway library! We have 36 of the newest 2nd generation Barnes and Noble e-readers available for student check out. A variety of books representing different genres and reading levels have been pre-loaded on the device and are available for reading during the 2 week check out period. Our library collection, including print and Nook selections, serves to encourage critical thinking and extend students' knowledge and understanding of the world around them while promoting a love of reading. To support that goal, we provide access to a wide range of reading materials designed for students with a variety of reading levels and interests. We encourage parents to be actively involved with their children's reading selections by discussing book choices, reading together, and talking about literature.
Because of the costs associated with the Nook devices, we require students to have a signed permission form on file in order to check out a Nook. Students can find copies of the permission slip at the library, or they can be downloaded directly from this page below:
Many students have their own e-reading devices. At this time, they are unable to borrow directly from our e-book collection for their own device. Please know that e-books can be downloaded for free from the Sno-Isle public library system, as well as from other public libraries in our area. Students may also download public library books on a Nook checked out from Gateway. Please just bring in your library card and we can help you! If you would like instructions on how to download books to your own e-reader, please download the link below:
Did you know Gateway was in the News? Gateway students came to school early in the morning to showcase our Nook program for the King 5 morning news. Check out some of the coverage!
Video | News | Weather | Sports
Thu Sep 22 08:10:00 PDT 2011
Everett schools going high-tech with electronic books
A new school year means new books and reading requirements. But in the Everett School District, students are going high-tech with electronic books. view full article