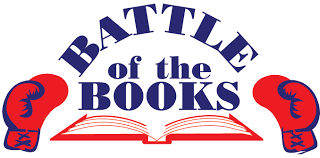 6th Grade Battle of the Books
Get Ready to Rumble!

*Note: The info below is for 2017. Stay tuned for details about 2018 Battle of the Books!*

The 6th Grade ELA team is holding a Battle of the Books to find Eisenhower's most brilliant bookworms! The Battle of the Books is a trivia contest about four great books chosen by your 6th grade teachers. Students form teams, read the books, and compete against other teams to answer trivia questions about the books. All participants will receive a reading seal. The team that earns the most points in the final battle will win the grand prize: not only a seal, but also a picture in next year's yearbook and an item from the "Mystery Box."

Basic Info:

Teams form by April 28th.

First round of battle takes place during school in each ELA class on June 1st.

Winners of the class battles will go on to the Finals on Tuesday, June 6th. This battle will be held after school in the library from 3-4pm.

The 2017 books are:

Sounder by William H. Armstrong
The Cay by Theodore Taylor
The Clay Marble by Minfong Ho
The True Confessions of Charlotte Doyle by Avi
Island of the Blue Dolphins by Scott O'Dell (Honors class only)

FAQs:

Q: Is participation in the battle required?

A: No, but if you do not participate in the battle, you will be required to complete another assignment.

Q: Can I invite my parents to the final battle?

A: Yes! Please do!

Q: Can I use the book and/or notes during the battles?

A: No, you can only use your noggin! However, we DO encourage you to take notes on content while you read. The act of taking notes will help you pay attention to details and help those details stick in your memory. You can also then study your notes before the battles. Take notes on setting, character, plot, point of view, theme, and information about the author. Anything on and between the front and back cover of the book is fair game for trivia!

Q: What about transportation home after the final battle?

A: If you're able to arrange a ride, that would be best. However, we are holding the event after school on a day that the activity bus will be available for all bus-riders. Walkers and car-riders will need to get home on their own as the activity bus is an option for those who do not usually ride the bus.