Sra. Friedenson Bio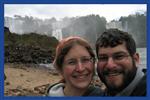 Phone: 425-385-7082
Email:
Degrees and Certifications:
Mrs.

Friedenson

Saludos! I'm glad you are interested in Spanish, and I look forward to meeting you and working together this year. This will be my 19th year at Jackson, and my 21st year teaching! I've taught Spanish One through Four, and I've enjoyed helping students learn Spanish at all of these levels.

You may wonder how I started learning Spanish. I grew up in Eastern Washington, where many people around me spoke Spanish. In third grade, my teacher was learning Spanish and taught some words, like colors and numbers, to our class. In fourth grade, I was in a bilingual classroom where we learned in both English and Spanish. Spanish was the best way to talk and play with a lot of my classmates. Just before high school, I traveled to Mexico and discovered that I still remembered Spanish from my fourth grade class. I studied Spanish for four years of high school. I used Spanish with a friend's family and at my plant nursery job, which helped my understanding of Spanish a lot. At WSU, I majored in teaching Spanish, and studied in Mexico for a semester as part of my degree. I fell in love with Mexico, and met my husband! Since then, I've traveled, lived, and studied in Peru, Bolivia, Chile, Argentina, Costa Rica, and Spain, and I've enjoyed using Spanish here in our area, too. While in Chile, I began my Master's degree at the Universidad Austral de Chile in beautiful Valdivia, and completed it at Antioch University Seattle, with an action research project which involved Jackson students in service learning.

From my experiences and my studies, I believe that using a language is the best way to learn it. I encourage my students to speak Spanish as much as possible in class, and to try out many ways to use Spanish outside of school, too. I hope each student discovers that Spanish can add richness and possibilities to their life.

This year, I look forward to helping all of my students develop their Spanish communication skills and enjoy exploring the Spanish-speaking world. Please let me know how I can better help. Gracias.