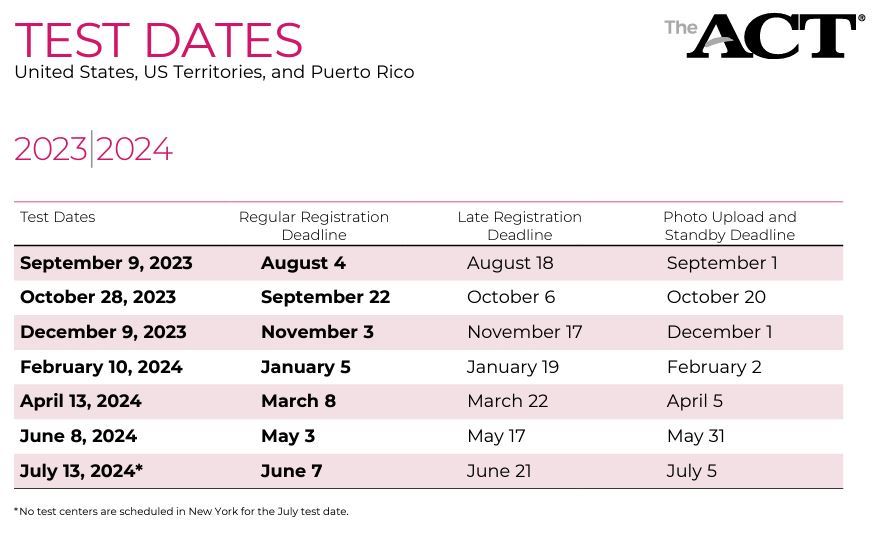 ACT Overview
What is the ACT?

The ACT test is an admission test used by colleges and universities to make admissions decisions. It is a timed multiple-choice test divided into four sections: English, reading, math and science. There is an optional 40-minute writing portion. The ACT can be used to meet a graduation pathway in Washington State.

When should a student take the ACT?

Seniors who plan to attend a college or university typically take either the ACT or the SAT during the summer before or fall of a student's senior year; the timing also depends on any applicable deadlines for high school credit/graduation and college admissions. ACT scores of 14+ in ELA and/or 16+ in math may be used to meet an English/Language Arts and/or Math graduation pathway.

Why is the ACT important?

As of May 2021, Washington public universities no longer require SAT or ACT scores for admissions, scholarship eligibility, or course placement. Note that private higher education institutions and those outside Washington state may have different application requirements or considerations for admissions.

In Everett Public Schools, qualifying ACT scores (14+ in Reading, 16+ in Math) may also be used to:

Meet a graduation pathway in English and/or Math, per WA OSPI high school graduation requirements.
Demonstrate competency-based credit recovery for a previously failed English or Math course.

Where is the ACT offered?

The ACT is not offered at Everett High School like the SAT or ASVAB.

Please see the table below for a list of schools in Snohomish County hosting the ACT - note that not all schools are offering tests on the same dates. For ACT testing locations outside of Snohomish County, please refer to the ACT website or make an appointment with your counselor!

How will ACT scores be reported?

ACT results are posted to a student's MyACT account online, 10 to 60 days after the testing date, depending on when the test occurred; some dates have a higher volume of testers. When registering for the ACT, students select their high school and four college/university institutions to send their scores to at no cost. Sending additional score reports is done through a student's MyACT account for a $16 fee per report.

How is the ACT different from the SAT?

ACT includes a science section and has one math section that permits calculator usage; the SAT does not have a science section and there are two math sections, with and without a calculator.

ACT aims to test students' knowledge recall and its questions are very straightforward; the SAT asks students to solve real-world problems by applying their knowledge while using logic and reasoning skills.

ACT has 61 more questions than the SAT but has the same three-hour timing, meaning students must spend an average of 49 seconds per question; the SAT has 215 questions over three hours, allowing 70 seconds per question.