2016 Capital Bond and Levy Projects
Return to Headlines
Buy 14 portables for high schools (completed)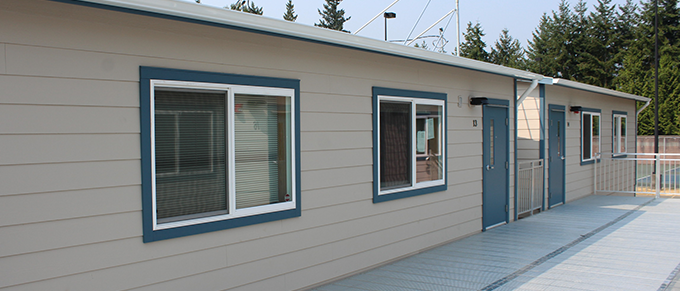 The 2016 bond paid to buy and install 14 portable classrooms for high school growth. The cost of each portable includes furniture and equipment, classroom technology, security systems, ramps, stairs, raised walkways, and utility connections.


Location
HM Jackson HS – 1508 136th Street SE, Mill Creek, WA 98012
Cascade HS – 801 E. Casino Road, Everett, WA 98203
Architect
Studio Meng Strazzara
Contractor
Pacific Mobile & Electrical Contractor
Estimated project cost
$2,800,000
Estimated completion
Fall 2020
Project update as of Sept. 4, 2018
All portables are complete and occupied.
Project update as of May 9, 2018
Permits have been submitted and we have about half in hand. All the north end portables are onsite. We are out to bid on the electrical packages.
Project update as of Mar. 27, 2018
Public Works is reviewing the report from the civil engineer. They hope to have a permit issued this week.
Project update as of Feb. 1, 2018
As of February 1, 2018, three portables have been installed at Jackson HS utilizing bond funds. Ten portables have been ordered for North Middle School to be used during construction and then moved to one of the high schools. Eisenhower will add portable #7 this summer and exhaust all Bond designated portables.
Project update as of Oct. 31, 2017
A series of meeting have been scheduled with key departments to determine the portables needs for the 2018-2019 school year. If there are additional needs for classroom space, portables will be ordered in December 2017 and installed in the spring and summer of 2018.
Project update as of July 12, 2017
Three portables have been added at Jackson High for the 2017-18 school year. Between now and 2002, nine portables total are expected to be placed at Jackson High, and five are expected to be placed at Cascade High.
Project update as of June 30, 2017
The electrical contractor has begun connecting power, data, fire, intercom and security systems to the new portable classrooms at Jackson High.