Farm to School
What is Farm to School?

Farm to School is the name that the Washington State Department of Agriculture (WSDA) uses to describe school programs that promote and serve locally produced foods in cafeterias, educate students about food and agriculture, and those that support school gardens.

Everett Public Schools supports the Farm to School movement through our procurement, education, promotion, preparation, and service of locally produced foods in our schools.
Procurement

Everett Public Schools is a district with over 20,000 students at 27 school sites, with each site preparing its own meals. This can make it difficult for our local farmers to deliver produce to every school site. As such, Everett Public Schools contracts with a local produce vendor who focuses on procuring from local farms. Produce from a variety of local farms is then delivered to each school site by our produce vendor. This provides our students with greater access to a wide variety of produce while also supporting multiple local farms. A list of local farms that our produce vendor works with, along with some types of produce they provide can be found below.

Not only do we procure local produce we also get milk and yogurt from local farms. In many instances, the period of time from the dairy farm to the school is less than 48 hours.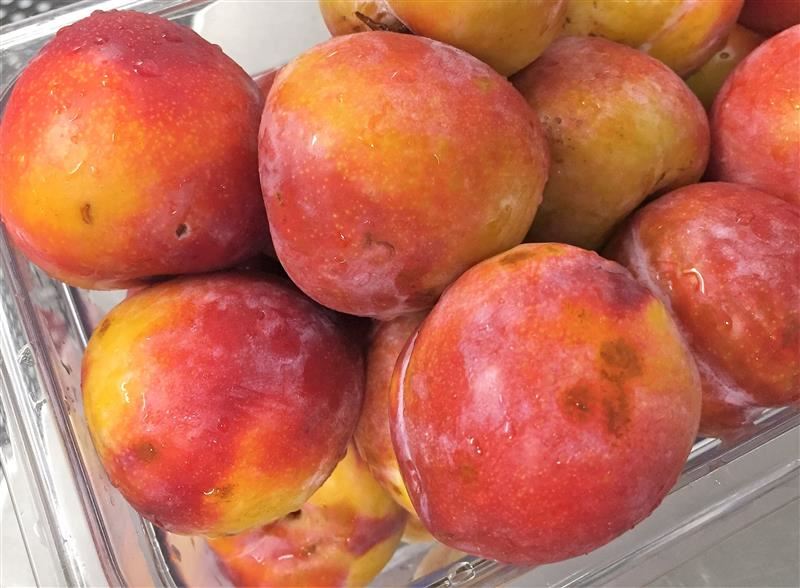 Education and Promotion

Each month we feature a vegetable as part of our Harvest of the Month promotion. This promotion puts a vegetable at center stage each month and is featured on our menu and in our cafeteria.

The featured vegetable is incorporated into the menu so that students have the opportunity to taste, touch and smell the produce. When possible, we prepare the featured produce in a variety of ways throughout the month.

Through Peach Jar, we send out monthly menus which also include a flyer and an activity sheet about the featured veggie of the month. Each flyer contains fun facts about the featured vegetable as well as a kid friendly recipe you can try at home. Additionally, the elementary school menu also highlights a local farm that provides our produce.
Unlike districts with a centralized kitchen that prepare and deliver meals to their school sites, each one of our 27 school sites has its own kitchen where meals are prepared each day. This enables us to provide the freshest possible food service to our students. Additionally, we take pride in offering our students access to many made-from-scratch items such as our breads, hummus, and homemade ranch dressing to top a salad or dip fresh vegetables in.

Each elementary school has a salad bar that is full of an assortment of fresh fruits and vegetables each day. Students have the opportunity to try something new as they go through the line or find a familiar favorite. When in season, fresh fruits and vegetables like local plums can be found alongside other favorites such as apples, carrots, tomatoes, broccoli, jicama, peppers, and a salad mix.
Local Farms
Anderson Blueberry Farm, Bow, WA, Blueberries
Biringer Farms, Arlington, WA, Strawberries, Raspberries
Bob's Corn, Snohomish, WA, Corn
Borton & Sons, Yakima, WA, Apples, Pears
Broers Farms, Monroe, WA, Berries
Bybee Produce, Prosser, WA, Onions
Carleton Farms, Lake Stevens, WA, Vegetable Variety
Carpinito Brothers, Kent, WA, Lettuce, Squash, Cabbage
Cascadian Farm, Rockport, WA, Organic Variety
Cedardale Orchards, Mt. Vernon, WA, Cider
Craven Farms, Snohomish, WA, Squash, Pumpkin
Dues Berry Farm, Marysville, WA, Berries
Full Circle Farms, Carnation, WA, Vegetable Variety
Garden Treasures, Arlington, WA, Vegetable Variety
Gordon Skagit Farms, Mt. Vernon, WA, Squash, Apple
Grandview Mushroom Farm, Arlington, WA, Herbs, Mushrooms
Hedlin Farms, La Conner, WA, Variety
Herb Co International, Duvall, WA, Herbs
Highwater Farm, Mt. Vernon, WA, Variety
Hughes Farms, Mt. Vernon, WA, Broccoli, Cauliflower
Inaba Produce Farms, Wapato, WA, Beans, Asparagus
Imperial's Garden, Wapato, WA, Peppers, Tomatoes, Beans
Jones Creek Farm, Sedro-Woolley, WA, Variety
Klesick Family Farm, Stanwood, WA, Organic Variety
La Conner Flats, La Conner, WA, Potatoes, Berries, Herbs
Magana Farms, Sunnyside, WA, Peppers, Tomatoes, Beans
Mike & Jean's Berry Farm, Mt. Vernon, WA, Berries
Mosby Farms, Auburn, WA, Squash, Beans, Cucumber
Mother Flight Farm, Mt. Vernon, WA, Organic Variety
Norm Nelson Inc., Burlington, WA, Potatoes (red, gold)
Perkins Variety Apples, Sedro-Woolley, WA, Apples
Pioneer Farms, Stanwood, WA, Variety
Puget Sound Potato, Burlington, WA, Potatoes (red, gold)
Ralphs Greenhouse, Mt. Vernon, WA, Variety
Sakuma Brothers Farm, Burlington, WA, Berries
Schuh Farms, Mt. Vernon, WA, Variety
Skagit Flats Farm, Mt. Vernon, WA, Vegetable Variety
Smith & Morrison Farms, Mt. Vernon, WA, Potatoes
Sterino Farms, Puyallup, WA, Lettuce, Squash, Cabbage
Stocker Farms, Snohomish, WA, Variety
Swaney Family Orchard, Chelan, WA, Cherries, Apples
Swans Trail Farms, Snohomish, WA, Corn, Pumpkin, Apples
T.J. Farm, Mt. Vernon, WA, Blueberries
Tonnemaker Hill Farm, Royal City, WA, Organic Variety
Viva Farms, Burlington, WA, Variety
Wallace Farms, Burlington, WA, Potatoes (fingerling)
Willie Green's Organic Farm, Monroe, WA, Organic Vegetable Variety